WORKSHOP: THE 4 ACES
Amir Jaan, 10-12 march

The 4 Aces ♠️♥️♣️♦️A Workshop Composed & Presented by Amir Jaan
The 4 Practical Pillars of a Peaceful, Prosperous, Authentic & Spiritually Mature Character
This new series of workshops will be a moment to pause & reflect on the contemporary issues arising out of the constantly evolving personal & social issues around – modern Self identity, crisis, relationships, responsibilities & routines… The primary approach to this work will be based on a experiential exploration of four simple but effective principles
Main Themes Under Inquiry During these Workshops will Be –
Awareness ♠️ Self Authority ♥️ Autonomy ♣️ Authenticity ♦️
Amir will present the material for these workshops more in the style of Serious technically accurate and well considered series of Experiments Conducted Playfully through the lens of self Awareness in the laboratory of the body mind and of course under the close and quite observation of our higher selfie ~ a fun and interesting way to engage with self enquiry and self investigation of the essential nature & notion of the self, in a way that represents an honest attempt to, Loosen the knot of over identification with old ideas, thoughts, words and actions that are not any longer in harmony or alignment with our current Highest Values & Vibration / Resonance
The work will serve to both illuminate & demonstrate the synergy between these seemingly simple principles and the structured methods that underlie the science & practice of yogic exercise.
These workshops will assist the participants in developing a personal & practical tool kit for establishing & sustaining a more Peaceful, Prosperous, Authentic & Spiritually Mature Character
About Amir Jaan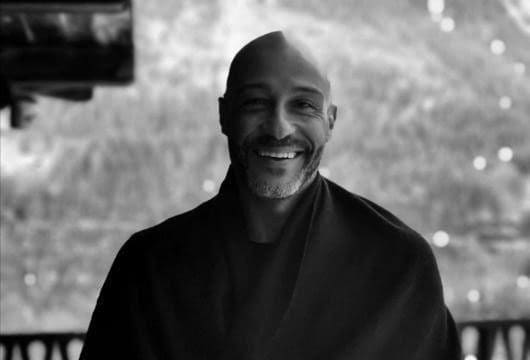 The workshop is led by Yoga and Meditation Teacher Amir Jaan. 
Amir's fascination in the White Tantric Temple Arts began over 25 years ago.
These are energetic practices that establish, strengthen, and sustain optimum health; physical, mental, and emotional. Amir's years of teaching with the general public, charities supporting people in recovery, young offenders, and private consultations for those with particular and/or special needs, have contributed to the breadth of his experience.
Amir's specialist knowledge in the field of Humanology has forged him into a powerful instrument to assist those with a desire or need to approach character and health reformation, in an organic, safe, and self healing way. His many years of teaching have refined Amir's intuitive observation and sensitivity to what is required in each moment for each of those present in the theatre in which he shares his work.
Amir's own ongoing, personal inquiry and public investigation into yogic science, physical and spiritual anatomy and the way they all work together have led him to develop a fusion of yoga practices. These incorporate exquisite music and cross- pollinate complementary practices from a variety of wisdom traditions. The practices are both experimental and experiential; producing a practical and functional toolkit to help mitigate the stress and tension of modern life. It is a practice that is simple, achievable, sustainable, and effective. It is important to Amir that his classes are accessible and available for everyone regardless of tradition, experience, age, and physical ability.
Date: 10-12/3 2023
Times: Friday kl 18-21, Saturday 12-18, Sunday 10-13
Price: 2900 kr
Booking is binding. Buy your ticket via
Tickster